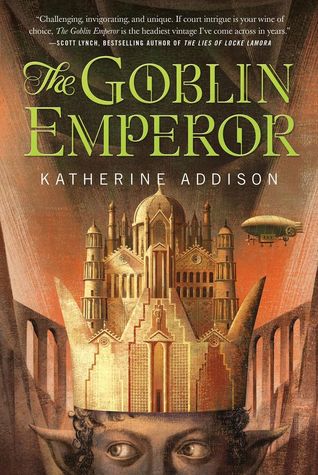 [Copied from my goodreads account]: I rated this five stars.
Full disclosure: Sarah is one of my best friends, and I archive her work at NIU.



I absolutely loved this book. While the name Katherine Addison may be new to some readers, it is an open pseudonym for Sarah Monette, whose Doctrine of Labyrinths series (as well as pretty much the rest of her work, ever) I also adored.





This is a standalone secondary world fantasy, with elves, goblins, and zeppelins. The naming system for the characters is a little on the complicated side (prefixes AND suffixes have meaning here), but rolling with it will get you where you need to be, and there's a handy guide at the back of the book just in case.





This is a story of Maia, the fifth in line to the Emperor's throne. His goblin mother was the Emperor's 4th wife (a political alliance), and he was raised basically in exile by an abusive cousin after his mother's death when he was about 8. (The Emperor, and most of the court, are elves. Maia is half elf, half goblin.)





There is a zeppelin accident (this happens in the first chapter, so, not a spoiler but a precipitous event) that kills the Emperor and his sons. Maia is now the emperor.





The rest of this book is an exquisite character study of Maia, who struggles to demonstrate goodness and kindness in a political and social system that is completely designed for him to be cruel and capricious and get away with it. If there is the opposite of grimdark, this might be it. Maia spend the entire book trying to figure out how to be an emperor *his* way. He is deeply sympathetic, and he absolutely struggles with the feelings that remain from his childhood abuse and the loss of his mother.





How does a good person navigate in a system that is deeply corrupt? How do you find your friends and allies when you hold life and death power over everyone? Is it even possible to be kind? Good? Will people know what to do with it if you manage it? Will they *trust* it?





As with all of Sarah's work, this is beautifully written on a sentence level. More importantly, this is a deeply emotional story about good and evil and how and why we choose. Highly recommended, and this may be going on my 2015 Hugo ballot.
[Reposted from my Goodreads account.]
[five stars out of five on their rating system]
Full disclosure: Mary is a dear, dear friend of mine, in addition to writing books that are aimed DIRECTLY AT ME as a reader. I would have a very difficult time not enjoying this book.
Every book in this series pleases me more. Not just because this is a romance novel with a heist plot, WHICH IT IS. (She describes it as "if Jane Austen wrote Ocean's Eleven"). It reminds me very much of the TV show Leverage, but with glamour (magic in this world), pirates, Lord Byron, nuns, boat chases, and a street puppeteer. In Murano, which is like Venice only smaller.
Just as importantly, we get to see Jane and Vincent navigate what comes AFTER happily ever after, which is the hard work that it takes to keep a healthy, loving relationship together, especially when setbacks and bad life things happen. They handle their challenges with the wit and grace you'd expect, and good humor, and more emotional honesty than you might think. I have come to love these characters, and I'm looking forward to book 5, Of Noble Family, which will close the series.
Hey, in case you missed it this weekend ... I was nominated for two Hugo Awards!
BEST FANCAST
Verity! Deborah Stanish, Erika Ensign, Katrina Griffiths, L.M. Myles, Lynne M. Thomas, and Tansy Rayner Roberts
BEST SEMIPROZINE
Apex Magazine edited by Lynne M. Thomas, Jason Sizemore, and Michael Damian Thomas
Michael is also nominated for:
BEST RELATED WORK



Queers Dig Time Lords: A Celebration of Doctor Who by the LGBTQ Fans Who Love It Edited by Sigrid Ellis & Michael Damian Thomas (Mad Norwegian Press)
Finally, Rachel Swirsky's Apex Magazine story "If You Were a Dinosaur, My Love" was nominated for the Best Short Story Hugo Award and Nebula Award! This is the first time a story that we co-edited has been nominated for a major award. We are THRILLED for Rachel!
I'm so very proud of our run at Apex Magazine. We worked with phenomenal people. We couldn't have done it without such amazing contributors and co-editors. I'm also thrilled to have the fun and work of Verity! recognized. *fistbump for my Verity! peeps*
Michael and I attended a live Hugo Awards announcement at Minicon. It was fun hearing it with our friends. We were also able to celebrate with a nice dinner that became rather raucous.
It's been a rough year, so this really means a lot to us. Now all we have to do is figure out how to be in London for the ceremony. :)
[This post adapted from Michael's. It's been a busy week.]
Look, it's a schedule for Minicon (4/18-4/20, Bloomington, MN)!
Fandom or Fandoms? Friday 4:30 pm Ver 3/4
Is SF Fandom one monolithiic thing or a collection of sub-fandoms? Is there a generational difference? "My fandoms are -"
Rachel Kronick (m)
Elise A. Matthesen
Michael Lee
Michael Damian Thomas
Neil Rest
Hands On Research, Friday 5:30 pm Krushenko's Ver 7/8
The best way to write about something is by attempting to do it, but the problem with doing research is that it can be easy to let the research take over the story. How do we balance the story with the fun factoids and tidbits we learn, while doing things we plan on incorporating into our novels? How does doing it ourselves lend authenticity and credibility to the story? We would like to have some editors on this panel as well as writers.
Aimee Kuzenski
Ctein
Deanna Sjolander
Blake Hausladen
CJ Mills
Lynne M. Thomas
SF Squeecast Live Recording!, Saturday 6:30 PM Ver 5/6
Guest of Honor Catherynne M. Valente, Elizabeth Bear, Michael Damian Thomas and Lynne M. Thomas bring the legendary SF Squeecast to Minicon
Rock & Roll in Speculative Fiction -- It's Hip to be Square, SUN 2:30 PM Krushenko's
When we think of fantasy or the future, we don't think of rock and roll. Starting in the 1950's, sf has combined the influences of hedonistic young whippersnappers with fantastic narratives. A discussion on the rebellious spirit of rock and its influence.
Greg L. Johnson (m)
Michael Damian Thomas
Lynne M. Thomas
Nate Bucklin
Neil Rest
Current Mood:

busy
Originally posted by
michaeldthomas
at
Updates of Caitlin and Stuff
The picture tells the story. That is Caitlin sitting up straight and unassisted 2 1/2 months after her spinal fusion surgery. :)
$300,000 or so worth of medical procedures have done what they were supposed to do. Caitlin can sit again without discomfort, tipping, or organ compression. (Insurance has covered everything.)
Last week was supposed to be her return to school, but we had some rough days and nights of Cait being manic, not sleeping, and throwing up. Thankfully she was better by Sunday.
This week Caitlin managed to make it to school Monday to Tuesday. She also had great days! We received only happy notes about Caitlin smiling, giggling, and interacting with her friends.
This has been an extremely rough few months for all of us. We couldn't have managed it without all of the help and support from our friends. Thank you all for everything. <3
#
Now that things are getting back to normal for
rarelylynne
& me, we're starting to plan for the future. We did our first SF Squeecast together, and it was a blast. We love our partnership. We really make the other one better, and last year was extremely successful for us as editors. It's wonderful to see so many stories, essays, and poems we worked on together (and with others) get award recognition, Locus recommendations, and reprinted in year's best anthologies.
It's time to start the next thing. :)
Michael said it best, so here it is.
She is signing "I Love You" at the moment Michael took the picture. We were all glad she got better, as I was up with her most of Sunday night and Michael had her all day Monday while I was at work.
2. I'm editing exhibit labels for our sheet music exhibit that's opening April 1, called "Sing It Loud: American Social Movements Through Sheet Music."
My favorite so far, mostly due to knitting content:
3. The
Digital POWRR
grant is putting together our workshop "From Theory To Practice" that we will be giving all over the country at various conferences and events through November. Unfortunately, the
RBMS Preconference
won't be among them. While the workshop was accepted, there weren't enough people signed up for it, so it was canceled. This also means that I no longer will be attending the preconference. I'm sorry to miss it, but looking at my travel schedule for the next few months, this may be a blessing in disguise. That said, I'm certain it will be an EXCELLENT program (it always is), and if you were considering going, I want to encourage you to do so. I'll be keeping an eye on it via twitter and other social media. :-)
4. Digital POWRR is also working on our final white paper. You may notice a theme. That theme is "this is the busy time for the grant in terms of getting ready to deliver its deliverables." I may be less visible for a bit as we try to lock ourselves in rooms and be smart and lay out everything we've learned on this project. Rest assured, we are busy little bees working away on this.
5. It is spring break for the online course I'm teaching, so I'm slowly grading papers between grant and exhibit. Multipurpose procrastination! One task gets boring or overwhelming, move to the next.
Bonus #6. Candy Crush: Level 40.
1. Caitlin had a rough start to the week, being kind of barfy overnight on Sunday and most of Monday. We're not sure of the reasons--often it's just allergies or random throat tickles. She's doing much better now. Kept her overnight feed down last night, and has been better today. Michael posted a picture of her holding her Matt Smith doll while watching Doctor Who:
Yesterday we had a meeting at Caitlin's school, to go over her new set of needs post-surgery, and to plan for her return. The meeting went very, very smoothly. Cait will likely be returning to school the first week of April, just after their Spring Break, which is next week. We're using the play-it-by-ear method of returning her on a day-to-day basis at first, because she had such a difficult time at first after her hip surgery. The team of her teachers and aides is all excited to see her, and so are her friends.
After the meeting, we went by her special needs classroom to say hi to her classmates, and her 3 best friends from the non-special needs 5th grade classroom came by to say hey, too. One of the best pieces of news that I got was that these 3 best friends will also be attending the same junior high next year with Caitlin. (Oh, and we're all making plans for the girls to go see the Muppets together at some point soon, too.)
Cait was so excited to see her friends that she was basically up half the night last night going "WOO". I kid you not. She's apparently ready to get back to her friends and her life ANY DAY NOW.
That's right, Caitlin has a POSSE. She has good friends that will be by her side in the next adventure. I'm so very, very pleased. THIS is why we pushed for, and were so happy to have Cait at least partially mainstreamed. Because the kids in her school see her as Caitlin. No more, no less. They take her nonverbal communication, the wheelchair, all of it in stride. She's just Caitlin.
This is completely different from how my school district growing up handled things. They kept the special needs kids separate from the rest of the kids. It meant that we didn't get to know the special needs kids, and they didn't get to know us. They became "other" in ways that did not encourage us to be particularly kind to them. I often wryly joke that we only saw them in gym class while throwing dodgeballs at them, but it's not really an exaggeration--most of their mainstreaming time was in nonacademic subjects like Gym and Home Economics.
I'm very, very glad that attitudes towards how to handle special needs education have shifted so much in the next few generations. Because Caitlin has a whole life with her friends at school that I don't know much about, as is right and proper for an 11 year old going on 12. She will not have to experience junior high feeling any more alone or isolated than any other kid experiencing junior high for the first time.
And that, to me, is priceless.
...because the good news is, there isn't much to update.
Trust me, when it comes to medical stuff and kids, it is BORING that you want, and we have been deeply grateful to be in the land of boring for the past couple of weeks.
Caitlin has been healing up nicely. She had a follow up appointment with her surgeon at the end of February, where he noted that he was really pleased with how good everything looked.
She's off of her pain medications. She has begun to roll to her side when lying down under her own power. We're still working on getting her to keep stretching and using her legs. She is slowly building up her stamina for sitting up, both in her chair and, say, on the couch. We were able to solve the barfing problem with a new medication that limits her secretions, which means that her breathing has been getting better.
She has made it through the ENTIRE SERIES of Full House, which she enjoyed very much. (Her dad, not so much.) She's also watching a ton of other stuff, including Cosmos last night.
This is the period where we just slowly wait for bone to grow. We're working on getting her wheelchair adjusted for her new back, which is one of the last steps before she can go back to school, possibly some time in April maybe? We're playing it by ear, but we are very happy with her current progress. Michael has been doing an amazing job caregiving for her, and I've been back at work and getting back into the swing of things, spelling him as I can on nights and weekends. We make a great team.
So far, so good.
We are deeply grateful for everyone who has visited, brought us food, sent Cait notes and gifts and silly pictures and all manner of things. Your support has meant the world to us.
The snow is beginning to melt. Now we look forward to spring.
I'm a member of the Science Fiction Collections Consortium. That's one of those old-fashioned email listservs you may have heard about, where we communicate with one another about who has what, who's getting what, and who may wish to be in touch with whom. :-) We offer each other duplicates, occasionally commiserate about lack of space, and work together as best we can to coordinate our collecting and curating of science fiction and fantasy literature for the ages.
Now we have something new! We have pooled our time and collection lists for one-stop shopping for author papers. If you want to know who holds what, BEHOLD: THE SCIENCE FICTION AND FANTASY SPECIAL COLLECTIONS WIKI.
Elspeth Healey did much of the work to physically set it up, and it is being slowly populated by a whole passel of curators! Hal Hall has graciously shared his AboutSF spreadsheet of collections with us, and the wiki will integrate that info, and help us to keep it up to date!
We like to share! Go check it out, and find out what you need to know. :-) (You're welcome).
So, another thing I didn't get a chance to note because we were in the hospital is that there are FIVE stories on the Locus Recommended Reading List that appeared in either Apex Magazine or Glitter & Mayhem. This list forms the basis for the annual Locus Poll and Survey. So, if you enjoyed them, go vote for them!
Novelette:
"A Hollow Play", Amal El-Mohtar (Glitter & Mayhem)
Short Stories:
"Karina Who Kissed Spacetime", Indrapramit Das (Apex 6/13)
"If You Were a Dinosaur, My Love", Rachel Swirsky (Apex 3/13)
"Ilse, Who Saw Clearly", E. Lily Yu (Apex 5/13)
"Such & Such Said to So & So", Maria Dahvana Headley (Glitter & Mayhem)
I'm so very, very proud that we've had such a strong showing this year!